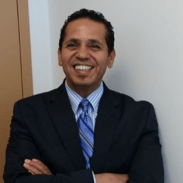 We interviewed Nezar Rghei, Psomagen's Vice President of Commercial Development and Genomic Services, who brings us his 27-year veteran status of working in the life sciences industry. His expertise in genomics applications and valuable insight contribute to Psomagen's success as a leading Genomic Sequencing Service Provider. Nezar received his bachelor's degree in biological sciences from the University of Victoria and then pursued a master's degree in molecular biology from Brock University in Ontario, Canada.

What do you enjoy most about your work?
"There are tremendous advances in genomics that impact healthcare, agriculture, and the environment. I enjoy reading and keeping up with ever-changing applications that are solving real problems and addressing pressing needs. Sequencing applications certainly lend themselves to generate data necessary to create biological insights in order to help patients, improve crops, or animal health."
What is the most difficult challenge you see in genomics research? How do you see it being addressed?
"If you take a look at the current pandemic, most of the responses to the pandemic are driven by advances in genomics, whether it's vaccines or diagnostics. However, there are still a lot of challenges for genomics to be as impactful and to deliver on its promises of precision medicine. The cost of sequencing technologies keeps dropping rapidly, but there are a lot more innovations that need to come about to produce simpler products to use in sequencing or instrumentations to really bring down the costs in order to bring these solutions to the clinic. The scale of data and standardization required to generate insights is still a challenge."
What are you hoping to bring to Psomagen in your new position?
"What I can bring is years of genomics applications experience, managing teams to deliver on growth, and the consultative approach to interacting with clients, scientists, and business leaders to help explain how our technologies can help them solve problems for a variety of different needs."